John Brown has been a wine and food columnist in West Virginia since the 1980's. His regular columns appear in the Charleston (WV) Gazette-Mail under the title Vines & Vittles and in The State Journal - a statewide business weekly
Sippin' and suppin' in Italy - Part II -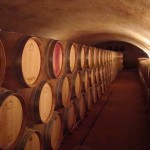 Our wine and food exploration of Italy continued in the Piemonte region and later included a brief, but memorable, stay in Tuscany where we were treated to a delicious multi-course lunch with accompanying wines at a renowned Brunello Di Montalcino producer.  But I'm getting ahead of myself.
Back at base camp (La Cascina Del Monastero), Velda Grasso and her winemaker husband Pepe (short for Giuseppe) not only provided us with excellent accommodations and spectacular dining recommendations, they also prepared and served us (and eight other lucky guests) a seven - course, seven wine gourmet dinner one evening.
Pepe's wines, which include Arneis, Dolcetto, Barbera, two Barbaresco's, Barolo and a delicious Moscato with dessert, were lovely accompaniments to the food. Velda's menu consisted of:  antipasti with local cheeses and salami, bruscetta with fresh tomatoes and herbs, lasagna with four cheeses, Italian wedding soup, sautéed rice balls with fontina, porchata (roast pork) with porcini mushroom sauce and hazel nut cake with a poached pear.
(Check out the Cascina's website at  www.cascinadelmonastereo.it. You can also get great advice on lodging, restaurants and wineries on your next trip to Italy by going to www.italybestsecrets.com). After dinner, our intrepid group moved to the terrace to watch the stars and sip Pepe's Grappa. For those of you unfamiliar with Grappa, it is the Italian equivalent of "moonshine" that is made from the pomace (pressings) of fermented grapes.  While Pepe's elixir was smooth and (too) easy to drink, I've had the misfortune of sipping Grappa that could have been used as rocket propellant. Groggy, but undeterred, we set off the next morning for a visit to one of Piemonte's most respected wineries, Prunotto.   Prunotto was established by the family of the same name in the 1920's and sold to the Tuscan Antinori Winery in 1989. Prunotto's winery is located in the hub town of the Barolo and Barbaresco region – Alba.
Cellars at Prunotto While Prunotto features the full line of Piemonte wines, two that are worth seeking out are the 2005 Barbera D'Asti and the 2004 Bric Turot Barbaresco.  The former is bursting with bright cherry fruit,  is well balanced and would be a wonderful partner to pasta with a putanesca sauce (featuring tomatoes, garlic, olives and red pepper flakes). The Barbaresco is a single vineyard wine that has aromas of dried flowers and sour cherries with loads of rich, ripe black currant flavors that beg to be paired with roasted pork.
While both Barolo and Barbaresco are made from nebbiolo grapes grown in the region of Langhe in Piemonte, the Italian government requires certain processes to be followed before wines can be called by those prestigious names.  For a wine to be labeled Barolo, it must be aged for two years in oak barrels and one year in the bottle before it can be released for sale. Barbaresco must have one year in oak and one in bottle before it can be sold.
For either wine to be authentic Barolo or Barbaresco, the government seal of DOCG (Denominazione di Origine Controllata e Garantita) which means "guaranteed, must be on the bottle. Generally speaking,  Barolo is a fuller-bodied wine with more prominent tannins than Barbaresco. This is not only due to the differences in aging requirements, but also because of micro-climate and soil differences between the two appellations.
Nebbiolo  ripe and ready to be pickedGenerally,  Barbaresco  matures faster than Barolo, though both have the structure to continue to develop in the bottle for decades.  One way I've found to speed up drinkability of the wines is to decant them for extended periods before sipping them.  For wines under 10 years old, I will pour them into a carafe for up to 12 hours before consuming them.
In the past decade, the vintages of  1996, 1997, 2001 and  2004 are considered to be exceptional and produce classic Barolo and Barbaresco that are very age worthy. The vintages of 1998, 1999, 2000, 2003 and 2005 are considered atypical because most were warmer years,  producing wines that are more forward, softer and higher in alcohol.  These also need to be decanted, but are more approachable in their youth.
We ended our trip to Piemonte with a visit to the world-renowned Barbaresco producer, Bruno Giacosa.  Giacosa does produce Barolo as well as the full line of Langhe wines, including Arneis , Barbera, Dolcetto and a wonderful sparkler made from pinot noir. However, the king at Giacosa is Barbaresco.
My familiarity with the pleasure of mature Bruno Giacosa  Barbaresco  is limited,  but one experience was unforgettable. I had purchased a bottle of 1971 Giacosa Barbaresco  to celebrate the birth year of my first born child.  On the occasion of his wedding (some 28 years later), we popped the cork on the bottle and sipped what can only be described as liquid silk.
Next time, I'll relate our brief, but exceptional trip, to Tuscany and the wines of Brunello Di Montalcino.
By accepting you will be accessing a service provided by a third-party external to https://wordsbyjohnbrown.com/